Save money and shop your closet! If you feel stuck wearing the same outfits every day, keep reading to find out how to get out of that rut, purge the clothes that don't work for you and create a capsule wardrobe that gives you 374 unique outfits!
This post contains affiliate links which means if you click on a link and make a purchase, I will receive a small commission at no additional cost to you. Thank you for your support!
Have you ever felt like you were stuck in a rut when it comes to your clothes? (Maybe you're still feeling this way.) My suggestion to you is this: Rather than running out to the store to buy something new, save money and shop your closet. You might be surprised at the clothing combinations you find there. How? I'm glad you asked. *wink*
The Year-Round Wardrobe Guide for Moms is like having a friend come over and look through your closet with fresh eyes. Eyes that don't see the exact same clothes every day. It's easy to get caught up in wearing the same combination even if we don't love it because we aren't sure what other options we have.
I'll be totally honest with you: I have a problem with clothes. Not so much the buying part (I'm great at that). But the part where everything mixes and matches and it's easy to pick out what to wear each day. That's the part that I've found I really need help with. This is where The Year-Round Wardrobe Guide for Moms comes in.
For many moms, myself included, it's easy to get stuck wearing the exact same type of outfit everyday. Whether it's out of convenience, a lack of fashion know-how or a combination of both, this guide will help you. The idea behind this wardrobe refresh is pretty straightforward. You start with basic pieces and then build from there using patterns and a color scheme that complements your physical attributes (skin tone, eye color, etc) and personal style. What you're left with is a capsule wardrobe and, once complete, a total of 374 casual and dressy outfits to get you through different seasons and are perfectly mom friendly!
What about my own personal style? I don't want to look like everyone else.
The way Corina from Frump Fighters has put her system together, you can create a wardrobe that is true to your own style preferences. She just provides the framework to make it happen. By going through her checklist, you can easily see what you already have and what you'll need to add. Colors and patterns are all incorporated into the wardrobe guide so you can piece it all together in a way that feels like your authentic self.
How do I know what colors, patterns, etc are going to work best for me?
The Year-Round Wardrobe Guide for Moms can help you discover this! Each person has unique characteristics that when combined, point you in the direction of the right color scheme for you. (You can take a quiz to give you a starting point.) From there, Corina provides access to resources you can reference that will tell you more about the best colors for your own features! There are a total of 12 seasons you can fall into. For example, I am a Soft Autumn/Soft Summer. Knowing this, I can choose colors that will work best for my color palette and bring out my best features (and get rid of the ones that don't!).
What if I go through my closet and find that I don't have all the pieces from the checklist?
Odds are, you won't have everything the wardrobe checklist in your closet. Even with the variety of clothes I have in my closet, there are still some gaps. It can take time to build up your capsule wardrobe, especially once you've gone through the initial evaluation and purging process. But you can still follow along, shop your closet and recreate the outfits in The Year-Round Outfit Guide for Moms because not every piece is needed year round.
What's this about 374 outfits?
Once you have a complete capsule wardrobe, you'll have enough pieces to recreate 374 outfits! Each outfit has a "formula" that tells you which pieces to put together to get the complete look. The great thing about this is that your outfit is going to look different than my outfit, even if we use the same formula. This goes along with what I mentioned above about being able to stay true to your own style. I put together a short 4 minute video where I show you 5 outfits that I was able to create from my current wardrobe using the guide. The great thing about it is that I had never thought to put any of them together in quite the way that was shown in the "formula"!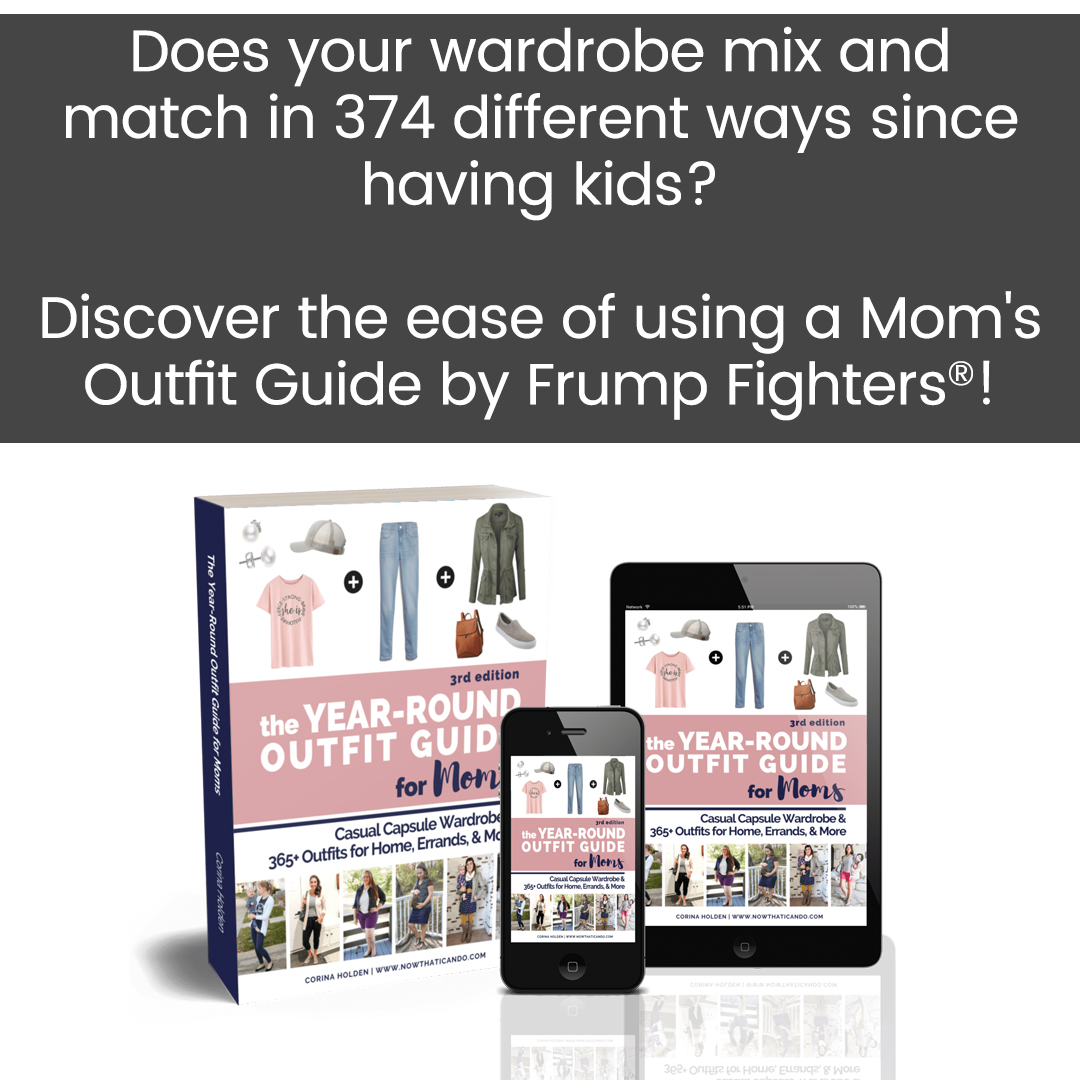 How can I purchase this awesome tool to help me get my wardrobe under control?
There are 2 different bundles you can purchase, depending on how you like to consume information:
Additionally, you can use the code SUNSHINE at checkout to receive a 15% discount on your total purchase!
If you're not sure about purchasing the whole bundle, you can sign up to receive a free 25 page introduction to her method of fighting the frump. It's got a lot of great information, links to posts and videos and a preview of what you can expect from the full bundle.
More than anything, I hope your takeaway from this post is that you have options! You can save money and shop your closet and find outfits that you love and are true to your personal style. The Year-Round Wardrobe Guide for Moms is a great tool, whether you need help purging your closet, getting some outfit inspiration or consider yourself "fashion challenged".
How do you think this wardrobe guide for moms could help you?